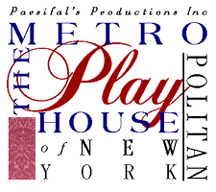 There is no theater like Metropolitan Playhouse in New York.
At the heart of the East Village, its well-loved thrust stage and up-close seating give audiences especially intimate encounters with each new world we conjure.
There is no company like Metropolitan in the country.
Unique for its devotion to finding new life in America's lost plays, the theater casts a revealing light from the world that has been onto the world we think we know.
There is nowhere else at all
that the world is seen from a perspective at once so immediate, so familiar, and yet so distant, so strange.

Please consider giving your support to this exceptional theater.
Coming up in January is an ambitious production that practically defines Metropolitan's work: the magical ghost story Thunder Rock. Robert Ardrey's story of a lighthouse keeper's retreat from a heartbreaking world—and the inspiring revelations that break upon him— was 1939's response to the war menacing Europe. After it's New York debut, it played through the Blitz in London, where Winston Churchill called it "the greatest contribution to British morale there has yet been."
As poignant as it is enchanting, Thunder Rock shines a beacon of hope today, just as it did in 1939. But Metropolitan's production, and those that follow this season, can only shine with the generous commitment of the friends who appreciate what a special place we have. Please consider a tax deductible gift before the end of the year to keep our own special light burning brightly.
Wishing you the very best of the holidays and the happiest new year,
Alex Roe
Artistic Director

Click an amount below to donate online
or click the reply card below for a printable version

We use PayPal to process credit cards, but you do NOT need a PayPal account.
Choose the "Pay with Credit Card" option from the next screen to use any credit or debit card.