The Melting Pot
Written by the British author Israel Zangwill in 1908, this witty melodrama is credited with coining the famous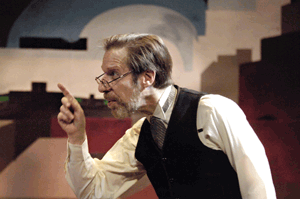 term for American community. A hopeful encomium to the promise of American opportunity, the play feelingly portrays the compromises of assimilation. It is a moving, fascinating, and revelatory window on our cultural heritage. A young Jewish émigré, survivor of a brutal pogrom and now living in tenement New York, strives to write a symphony to capture the American experience. He catches both the ear of a leading orchestra conductor, and the eye of a Russian woman of noble parentage. To embrace his art, his ideals, and his growing passion, he struggles against racism, poverty, and obscurity. But ultimately, he must choose to embrace his role as champion of his people's history or to find personal liberty outside of his own heritage.
Starring:
Paul de Cordova*,
Christina Demetriou,
Page Hearn,
Ronnie Newman*, Kendall Rileigh,

Margaret Loesser Robinson*,

Daniel Shevlin,
Steve Sterner*,
and
Suzanne Toren*
Written

by:

Israel Zangwill



D
irected by:
Robert Z. Kalfin

Assistant Director:
Austin Duggan
Stage Manager:
Heather Olmstead*
Set Design by:
Andrew Boyce
Costume Design:
Gail Cooper-Hecht
Lighting Design:
Douglas Filomena
Sound Design:
Gerard Collins
Dramaturg:
Michael Bloom
Israel Zangwill
(January 21, 1864 - August 1, 1926)
Fiction writer, dramatist, essayist, political activist, father of modern British-Jewish literature, and the so-called spokesman for Anglo Jewry.

Zangwill's early childhood was spent in Plymouth and at Bristol, where he received his first schooling. At nine years of age Zangwill's parents settled in Spitalfields, where he entered the Jews' Free School. A private school for Jewish immigrant children, the Jews' Free School offered a rigorous curriculum of secular and Jewish studies at no tuition while providing clothing, food, and medical care for the students. While in school young Israel distinguished himself and became a pupil-teacher, eventually becoming a full member of the faculty. Concurrently with his teaching work he took his degree in 1884 from London University, earning a BA with triple honors.

Israel began his writing career at the age of 17 with the story "Professor Grimmer." At 18 with his classmate Meyer Breslar he wrote "Motso Kleis." Owing largely to his authentic evocation of Jewish Londoner life, replete with Yiddish argot, his professors feared he would expose Jews to Gentile ridicule. They forbade him to
publish without school permission. His reply was to keep from publishing at all until 1888, when he resigned from the school and, with Louis Cowen, he wrote a fantastic tale entitled The Premier and the Painter, a Fantastic Romance.

His first post-teaching position was as a journalist for the Jewish Standard as a humor columnist and he eventually became editor. In 1890 he founded and became editor of Ariel, The London Puck, and did much miscellaneous work on the London press. He made his literary reputation with The Children of the Ghetto (1892), a novel commissioned by the Jewish Publication Society of America. Depicting an ironic look on Jewish life, it had an overwhelmingly positive response even though criticized for exposing his people to a non-Jewish audience. This was followed by the detective story The Big Bow (1892); the novella Merely Mary Ann; Ghetto Tragedies (1893); The Master (1895); Dreamers of the Ghetto (1898); The Mantle of Elijah (1901); and other tales and novels of great interest dealing with Jewish life, many of which he would later adapt for the theater.

Zangwill was a leading member of the Order of Ancient Maccabeans, a Zionist society established in 1891 dedicated to bringing Jewish gentlemen engaged in literature, science, and the arts together. When Theodor Herlz, the founder of political Zionism, visited London in 1896 he met with Zangwill to discuss Zionist plans. Zangwill attended the First Zionist Congress and additional congresses thereafter and in 1901 joined the Zionist Federation. In 1903 Zangwill married Edith Ayrton, a Gentile with whom he would have three children, and became extremely involved in politics supporting Herzl's Uganda plan. Following its rejection, he led the Territorialists out of the Zionist organization in 1905 and founded the Jewish Territorialists Organization (ITO) whose object was to acquire a Jewish homeland wherever possible. Following the securing of the Balfour declaration, the ITO fell into decline and officially dissolved in1925. Zangwill supported Zionist efforts in Eretz-Israel calling for a radical approach both as regards the demand for the early establishment of a Jewish State and the solution of the Arab question. As regards the latter he called for the transfer of Arabs from Eretz-Israel to neighboring Arab states.

Zangwill's first entry into dramatic literature was a collaboration with Eleanor Marx in 1891 entitled A Doll's House Repaired where Zangwill and Marx poked fun at Ibsen's detractors by crafting an ending to the play more to their liking. He again dove into theater in 1892 with The Great Demonstration, a one-act farce, Six Persons, a one-act duologue, and in 1895 with Threepenny Bits, a farcical skit. Children of the Ghetto, Zangwill's first full length play adapted from the novel, was produced in New York in 1899, the first English-language play devoted in its entirety to the depiction of Jewish life in an authentic and positive fashion. He followed this up with an adaptation of his novella Merely Mary Ann; The Serio-Comic Governess, Nurse Marjorie, and finally The Melting Pot, in 1908, introducing into the American discourse a potent metaphor that for nearly a hundred years has served as a key definition of the United States. Zangwill himself said that The Melting Pot was a direct product of his involvement in the ITO and the Galveston movements as well as his three years involvement in Jewish immigration and settlement issues.

However, in a 1923 public address, his frustration at the slowness of the Zionist movement made him declare the latter politically dead, and he turned back to the theater. In 1925, with hopes of producing all of his own plays, along with those of others, he rented London's Fortune Theater for the season. Expending his fortune on the project, he was nonetheless unable to achieve anything like his former success, and as his career began to fail, so did his health. Zangwill died in August, 1926 in Preston, North England following a nervous breakdown.