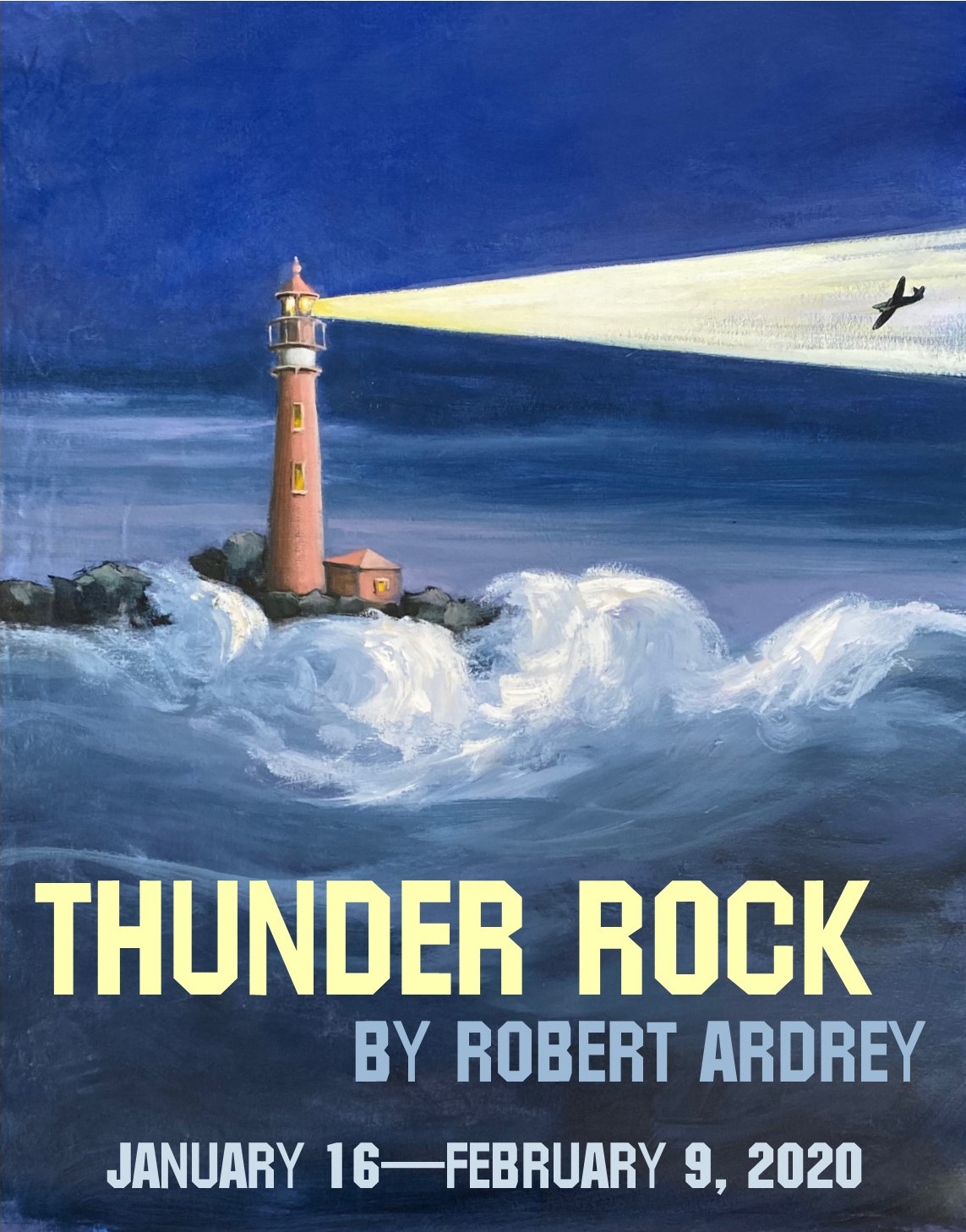 "The dictators vs. democracy. Fascism, Communism.
Police states and terror and refugees.
Look at Europe, look at Asia.... it's 1939 and it's drama, my boy, sheer stark drama."
- Act I, Thunder Rock





TO BE, OR...
Where do we turn, when every path looks hopeless? To resistance? To resignation? To rapacity? Or is the ethical choice to turn…away.
In Robert Ardrey''s stirring 1939 ghost story, Thunder Rock, David Charleston is a popular American journalist, returned from the Spanish Civil War with only shattered ideals. Once affable and engaged, now reticent and adrift, he keeps a lonely lighthouse on a tiny island on northern Lake Michigan. There, he solaces himself with company from a simpler-seeming age: "ghosts" he conjures from a packet boat, lost on the lake in 1849.

As the play begins, these 19th-century spirits are amusing confections of a sentimental imagination: the boat's captain and a handful of his passengers, all of them optimistic European immigrants seeking a new life in the American West. But soon enough, these six characters rebel against their author's simplistic conception. On the one hand, they assume the complexities of real people; more importantly, they embody their creator's own contradictory thoughts. This latter-day Prospero must confront his self-exile's motivations and consequences. Yet rather than confirming the futility of optimism, they show him the waste in the pessimistic life.

A play that insists we face the world's hardships with the candor of cynicism but respond with the courage of hope, Thunder Rock was first staged by Elia Kazan for The Group Theater on Broadway. The New York run was short. but across the ocean and without the playwright's knowledge, it made his name in London. Opening on the West End in 1940, it played through the Blitz to audiences who kept gas masks under their seats. Winston Churchill called it "the greatest contribution to British morale there has yet been." Then, after the war, it brought a new inspiration to war-ravaged Berlin. Thunder Rock's stage history is nearly as strange as its fiction (see below), and its insights and demands are as powerful now as they were 80 years ago.

BEACON
If the Spanish Civil War (1936-39) was a "dress rehearsal" for the Second World War, Ardrey saw that war's run secured by The Munich Agreement, which ratified Germany's annexation of the Sudetenland. He also saw the widespread reluctance in America to enter into another foreign campaign. But his play is not a bellicose call to arms; rather, it is an appeal to defy the seeming hopelessness in the modern world with a long perspective and faith in the future.

The dismay of the war in Spain lives in the works of Hemingway, Orwell, and Picasso's Guernica. Nonetheless, with its horrors eclipsed by subsequent conflicts, we may not fully grasp today the disillusionment of those volunteers from around the globe who rallied to the Republic's cause only to see it let down by its democratic allies and overwhelmed by the Nationalists, supported by Hitler's and Mussolini's training, weapons, and troops.

A heartbroken hero, Ardrey's American is an open-hearted outsider—energetic, curious, intelligent, and detached—who's been scalded by his embrace of the wider world. Modern weaponry, atrocities committed by all parties, international politicking, the triumph of Fascism: these are enough to lead him to abandon faith in all causes. A purposeful man who's lost his purpose, he declares: "For all humanity, I make one wish—let the people die off fast."

He is a cynical Candide, then: tending his own garden and, at the very least, doing no harm. But Thunder Rock begins where Voltaire concluded, and Charleston's choice of retreat, a lighthouse, tells us he can neither consign himself to obscurity nor condemn humankind to ruin. Even in isolation, he will be a beacon, and his solipsistic encounter with his own spirit leads him away from himself.

CLEAR AND PRESENT THEATER
New York has seen occasional revivals of Thunder Rock, but it is particularly poignant for 2020, 80 years after its London triumph.
The ghostly characters of the play sound unexpected echoes in our own time. European immigrants seeking opportunities in America, they include a British suffragist, despairing of hope that women will ever find equality in a world run by men; an uneducated worker's family, risking their lives for the doubtful promises of a new land; and a visionary doctor, fleeing the suspicious civil establishment that is more invested its own power than scientific discovery. The troubles of the 49ers are disturbingly familiar, today.

So, too, do the circumstances of the play's living characters echo our own. As in 1939, we see forces of nationalist isolationism raging against an inexorably shrinking globe. We feel Charleston's helplessness in a world increasingly straining against itself. If anything, that world is more frightening than his, with threats of cataclysm multiplied many times over by our nuclear, cyber, and industrial advances.

Perversely, though, Charleston's retreat from the troubled world is actually available to us all, today. We are all empowered to virtually retreat to our lighthouses. Behind the walls of our social media profiles and newsfeeds, we may silo ourselves into echo chambers of our opinions and preconceptions. We may confine our sense of our selves and our responsibilities to the narrow cells of our politicized identities. And—to wear the metaphor thin—through our likes and posts, we can beckon others to our conclusions or warn them off our reefs. Unlike Charleston, though, we may only compound our disenchantments.

But the world does shine some beacons of hope. Since 1939 we have seen unimaginable progress in communications, productivity, medicine, travel, civil rights, and global living standards. We have our own reasons for optimism…provided we don't allow our despair to overtake us.

METROPOLITAN PLAY
The play's hero escapes that fate: like a modern dramatist redrafting the stock figures of a 19th century melodrama, Charleston undertakes a serious engagement with the past, inspiring hopeful aspirations for his present.

His journey practically describes the mission of Metropolitan Playhouse: to find inspiration in re-examining stories from the past with an open heart and critical eye. Charleston's awakening stems from his appreciation of how much had changed from 1849 to 1939. If, today, our global oppositions and fearsome technologies make even the battles of 1939 appear quaint, that was exactly Ardrey's message. In our very blinkered frustration, we may find hope.

Metropolitan is proud to bring back this voice from the past: a beacon for our own time, just as it was then, as a part of our 28th season, the Season of Dissent.