Michael Criscuolo · November 12, 2006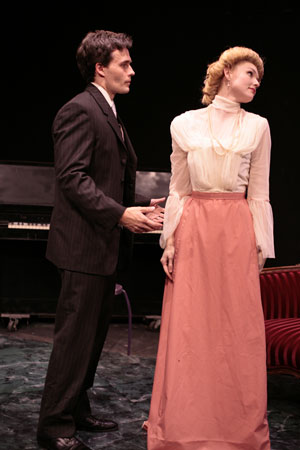 Becky Warder, the protagonist of Clyde Fitch's turn-of-the-century comedy of manners

The Truth

, has a problem with the title characteristic. Namely, she can't tell it. Becky's life is defined by lies, both little white ones and big whoppers. For her, truth is a mutable thing that can be shaped to fit any circumstance. Fitch, however, sees things a little differently. For him, the matter is black and white: one is either telling the truth or one is not. In The Truth, the author looks at someone who is so good at lying that she frequently not only fools those around her, but the audience as well. Written nearly one hundred years ago, Fitch's play feels vibrantly contemporary today, and Metropolitan Playhouse's marvelous new revival shows us why.


Becky is a high society gal in 1903 New York who may be two-timing her loving husband, Tom, with rascally Fred Lindon, whose wandering eye has caused him to separate from his jealous wife, Eve. Becky and Fred have spent a lot of time together during Fred's separation, allegedly so Becky can counsel him on how to fix his marriage. Trusting Tom takes his wife at her word, but Eve begs to differ. She's hired a private detective to follow Fred, and the P.I. has a different story to tell about him and Becky. Our heroine's struggle to make her lies like truth, and to preserve her marriage despite her transgressions, is the main conflict of

The Truth

.

Fitch's play is remarkably free of any dated language that might make it stale. As written,

The Truth

comes off as an intelligent, funny, sharp-tongued drawing room comedy, anticipating both Noel Coward and Edith Wharton. But, not content to rest on its comic laurels, The Truth reaches deeper to make some wise observations about trust. Like, it's easy to trust your spouse, but just as easy to deceive them. Sometimes, the reason one trusts their spouse is because he or she can be fooled so easily. It could be argued that one of the things Becky loves most about Tom is how simply she can manipulate him.

The Truth is also about children learning the lessons of their parents too well. Late in Act I, Fitch introduces Becky's father, Steve Roland. He lives off a monthly allowance from Tom that he spends on booze, horses, and cards. Because he goes through money so fast, he's always trying to pump Tom for more by any means necessary, which often means lying. It's easy to see where Becky gets her talent for self-preservation. Both she and her father have a knack for saying whatever will save their hide, no matter how cockeyed it sounds. But, Steve is older and wiser, and knows that the center cannot hold forever. More importantly, he doesn't want his daughter to end up like him. In Act II, with Becky's back against the wall, Steve sits her down for a touching heart-to-heart in which he divulges past secrets, and helps her plan a way to right her wrongs.

Director Yvonne Opffer Conybeare approaches

The Truth

with utter sincerity and a deft touch for its brand of situational comedy. Doubling as set designer, she creates a believable onstage world. By focusing on Fitch's theme of trust, she retains his play's startling relevancy. In a modern world where it's sometimes difficult to find anything to believe in, this is a message that cannot be overstated.

The production is driven by a trio of splendid performances. As the shunned Eve, Shanara Gabrielle is heartbreakingly possessed, struggling in vain to win back a man who doesn't want her. Peter Reznikoff endows the rascally Steve with a world-weary gravitas that suits the role perfectly. And, Christy McIntosh is divine as Becky, making her an insouciant combination of temptress and angel. McIntosh makes it easy for us to understand why men fall under Becky's ravishing, intoxicating spell. The rest of the cast—Jeff Pucillo, Rob Skolits, Amy Smith, Rene Becker, and Evan Palazzo—is excellent, which each member contributing top-notch support (and, in Palazzo's case, some nice piano playing, as well).

Metropolitan Playhouse has given us an all-around excellent production with

The Truth

. Kudos to them for reviving this rare gem, and reminding us of something that Fitch apparently knew almost a century ago: the truth, no matter how one looks at it, never goes out of style.


Jeff Pucillo and Christy McIntosh

photo © Mary Rose Divine



OnOFFOFF
by Fred McKinnon

If Beckey Warder, the lovely protagonist and charming liar of Metropolitan Playhouse's presentation of the early 20th century comedy "The Truth," had heeded the words of Sir Walter Scott (namely: "Oh what a tangled web we weave, when first we practice to deceive"), she wouldn't have gotten herself into such hot water. But audiences would not have as much fun watching her manufacture plot-forwarding falsehoods in the once-celebrated Clyde Fitch's most mendacious-riddled play.

Clyde Fitch? At the turn of the century-the one before last-American playwright Clyde Fitch was an international phenom (multiple hits in New York and London). He was extremely prolific (creating sixty-two plays) and a box office success (having four plays running concurrently on Broadway). "The Truth" originally opened at the Criterion Theater in 1907, was again presented on Broadway in 1914 and became a feature film six years later.

The action of the play takes place early in the 20th century in an elegant home in New York City and in a not-so-fancy boarding house in Baltimore. The time and places are wonderfully evoked by two creatively suggestive sets (Yvonne Opffer Conybeare, who also directs), lovely ladies' bustled costumes (Lillian Rhiger) and delightful period piano music composed and played by Evan Palazzo, who also serves as butler Jenks.

The excellent cast of eight carry the often humorous and also emotion-evoking story fittingly. Becky Warder (the enchantingly convincing Christy McIntosh) in an effort to reunite an estranged married couple (or just to be admired-something quite easy to do) has been having trysts with friend Eve's husband Fred. When Becky's spouse Tom (an often believably duped and sympathetic Jeff Pucillo) obtains what he regards as positive proof of his wife's infidelity, complications ensue. Becky's gambling and manipulative father Steve Roland (Peter Reznikoff with a strong but sometimes bombastic approach to his character) complicates matters as Beckey seeks his help.

In the end, there is a satisfying conclusion, despite some questions remaining for me about characters from the first half of the play who do not appear later on. The ultimate resolve between Steve Roland and his long-time female companion Mrs. Crespigny (Amy Smith) also seemed tentative. Nevertheless, "The Truth" is a worthwhile theatrical experience for anyone interested in getting a truthful glimpse of early American comedy, as well as enjoying some fine, h

onest performances.