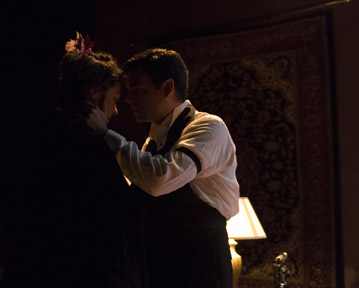 Elisabeth Preston* and Ryan Reilly*


photo: Debby Gol

dman

The tale of a good girl done wrong...and out for revenge.
Mary Turner is suspected of theft from the department store where she works as a shop girl. Sent up the river for three years, she comes out determined to give Society its just deserts, and she discovers ingenious means of doing so while always staying within the law. Can a life of legitimate crime pay? Certainly not without complications: logistical, ethical, and romantical. A twisting and turning melodrama with a light-fingered social conscience from the Progressive age.

MORE on the play...

Within the Law
by Bayard Veiller

Robert K. Benson*
Kelly Dean Cooper*
Jay T. Johnson*
Olivia Killingsworth*
John D. McNally*
David O'Hara*
Elisabeth Preston*
Deb Radloff*
David Logan Rankin*
Ryan Reilly*
Christian Rozakis*
Andrew Spieker*
Meredith M. Sweeney*

Director: Michael Hardart
Stage Manager: William Vann Carlton*
Set Design: Alex Roe
Lighting Design: Christopher Weston
Costume Design: Sidney Fortner
Fight Director: Scott Barrow

*These actors appear courtesy of Actors Equity Association.
Within the Law is an AEA approved showcase.